Cloudian HyperStore 4100

Enterprise Object Storage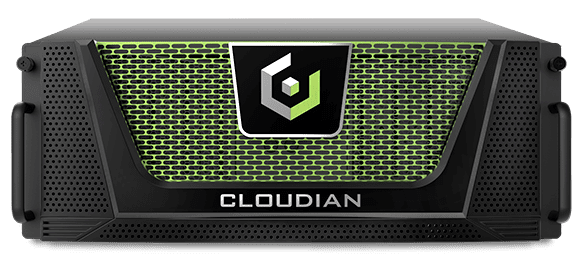 Cloudian HyperStore 4100 Appliance
Contact us for Pricing!


Ultra-dense 4U platform
2 nodes in 1 chassis
70x hot-swappable 3.5" disk drives (35 per node)
Up to 4x hot swappable 2.5" 7mm NVMe drives (including 2x drives for metadata)
10/25GbE and 40/100GbE networking options
Overview:
Cloudian HyperStore 4100 Series is 4U heigh enterprise object storage with dual controllers and 560TB to 980TB that packs two independent cluster nodes in one device. Three appliances provide six independent nodes, ideal for use with higher efficiency erasure coding configurations. Fully redundant power and cooling, and networking cards, plus hot-swappable components ensure high availability access. Each node includes 35 hard drives, a pair of Intel Gold 26-core processors, and 128GB of RAM memory. Several NVMe capacity options are available to meet metadata sizing requirements, and 10/25GbE or 40/100GbE networking options are available.
Enterprise Object Storage
Cloudian HyperStore S3-compatible object storage solves your biggest storage challenges. Deploy HyperStore nodes wherever you need capacity storage, then scale seamlessly. Employ HDD-based platforms for the industry's lowest TCO. Or leverage all-flash and get 3X better price/performance than competing systems. Cloudian HyperStore is the antidote to storage complexity.
Consolidate your unstructured data— both objects and files—to a single, limitlessly scalable storage pool with Cloudian HyperStore and HyperStore Flash. Available as either standalone software or fully integrated appliances, HyperStore enterprise object storage provides unlimited capacity scalability, intuitive management tools, uncompromising data protection and the industry's most compatible S3 API implementation—all at 70% less cost than traditional disk-based storage systems.
Features/Benefits
Choose from HDD or all-flash versions
Limitlessly scalable capacity
Start with just three nodes and grow
Non-disruptive capacity expansion
100% native S3 API for guaranteed compatibility
Replication and erasure coding
Bucket-level granularity for all storage policies
Encryption for secure data storage
Comprehensive multi-tenant services
Quality of Service (QoS) controls
Integrated billing, management, and software
Geographically distributed replication
Use Cases
Backup and disaster recovery
File consolidation
Media active archive
Collaboration
File lifecycle management
AI / Machine Learning
Storage-as-a-Service (STaaS)
Data analytics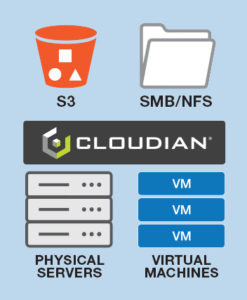 Software-Defined Storage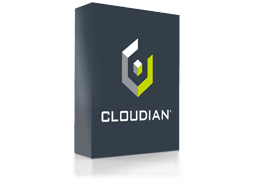 Deploy Cloudian HyperStore software on the platform of your choice. Compatible with industry-standard servers, Cloudian gives you the widest possible choice of bare-metal servers or virtual machines. Use HDD-based servers for capacity-intensive applications, or leverage Cloudian flash-optimized software for the highest performance on all-flash devices. Or combine HDD and flash in an adaptive hybrid configuration with intelligent data placement. Regardless of the platform, you get all HyperStore features and functionality.
Appliances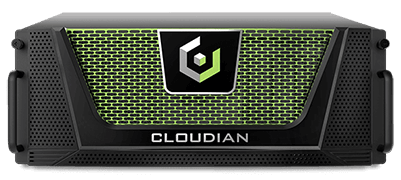 Cloudian HyperStore appliances give you plug-and-play deployment and end-to-end support. Choose from HDD or all-flash configurations to meet your performance and capacity requirements. Or combine both types in a hybrid configuration that is responsive to changing data usage patterns. Capacities range from 77TB to over 1.5PB per appliance. Each configuration is carefully configured to give you the optimal mix of performance, capacity, and cost.  Whichever you choose, you'll have enterprise support options to help meet your continuous uptime requirements.
Modular Growth
Cloudian HyperStore consists of storage nodes that join to form a limitless cluster. As requirements grow, you simply add nodes. Traditional storage grows in complexity as your capacity expands and systems proliferate. Cloudian stays simple with a single storage fabric. Deploy nodes as either pre-configured appliances – with capacities from 48TB to 1.5PB per appliance – or as software-defined storage on the server of your choice, Cloudian nodes make it easy to grow.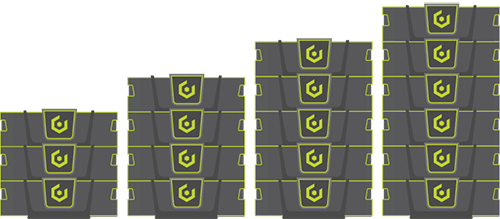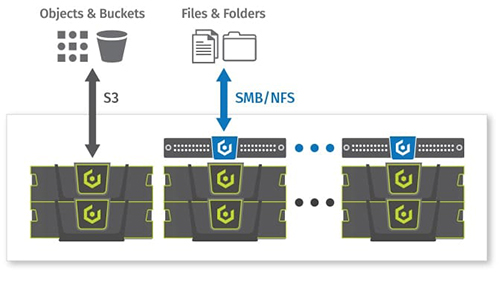 File and Object Together
Cloudian combines file and object storage in one limitlessly scalable environment. For SMB and NFS file services, employ the HyperFile NAS Controller. Available as either a pre-configured appliance or a VM-based application, HyperFile delivers scalable file services from HyperStore object storage. The result is a single, limitlessly-scalable common storage pool.
Features:
Cloudian HyperStore offers more capabilities that boost interoperability, data durability, and operational efficiency.

Proven S3 API
The industry's highest S3 API compliance ensures investment protection

File Support
SMB and NFS support with HyperFile NAS Controller software

Exabyte Scalability
Hyperscale data fabric for limitless growth

Modular Growth
Scale capacity and performance with additional nodes

GEO Distribution
Locate storage any place, manage from one place

Cloud Integration
Connect to public cloud for DR or added capacity
Benefits:
Start Small and Grow
Start small with initial deployments of just a few HyperStore nodes. As demand grows, expand capacity non-disruptively by adding nodes to your cluster. Unlike some systems that require all nodes to be identical, HyperStore lets you add nodes of any size. Flexibly grow from terabytes to petabytes with no down time.
Works with Your Applications
Only HyperStore offers a 100% native S3 API for objects, plus SMB/NFS for files. Proven in over six years of deployments, HyperStore's S3 API offers guaranteed compatibility with your S3-enabled applications. For files, select the optional SMB/NFS interface. Deploy with your applications, or leverage our growing partner ecosystem.
Save 70% vs Conventional Storage
At costs down to ½ cent per GB per month, HyperStore's efficient architecture and industry-standard components save you 70% on CAPEX. Massive scalability and lights-out management result in 95% less overhead. And you'll save on rack space: up to 980TB in just 4U height.
Uncompromising Data Durability
Get up to 14 nines data durability and configurable data protection. Only HyperStore lets you customize data protection for various data types within a cluster. Select from multiple levels of data replication and erasure coding.
Integrated Disaster Recovery
Implement DR using HyperStore's integrated tools. Deploy across multiple data centers or regions to provide redundancy and resilience in the event of a data center failure. Configurable consistency levels let you select either synchronous or asynchronous replication.
Scalable Performance
Processes multiple requests in parallel, across all nodes in HyperStore's sharednothing cluster. This eliminates bottlenecks and allows performance to grow as you add nodes. For large file transfers, multi-part upload lets you transfer files seamlessly between sites or to the public cloud.
Multi-Tenancy
Establish multiple user spaces with HyperStore's multi-tenancy capabilities. Provide individual management domains and namespaces within a shared cluster. Cloudian offers QoS controls and billing features that let you manage bandwidth and chargebacks.
Intuitive Management
Manage Cloudian via the intuitive webbased GUI or automate tasks using the RESTful API. Cluster management tasks are simple as well. Add or remove nodes and update system software without disruption.
Public Cloud Integration
Cloudian offers integration with all major public cloud services, including Amazon AWS, Google GCP, and Microsoft Azure Blob Storage. Use policy-based tiering to either migrate or replicate data from the Cloudian cluster. View both public cloud data and local data on a single screen. Bimodal access lets public cloud-based applications directly access cloudresident data.
Variable-size Metadata Tags
Record metadata along with user data to facilitate data management and data search. Elastic Search integration provides near real-time search capability. Variable metadata tag sizes give you flexibility not found in other object storage systems.
Security
HyperStore AES-256 Server-Side Encryption enables enterprises and service providers to easily encrypt data stored at rest. SSL encryption ensures data confidentiality for data in transit (HTTPS). And with S3 compatible ACLs, bucket policies, and IAM, system administrators can better manage access to buckets and objects.
Software or Appliance— Your Choice
Available as either software or a fully-integrated appliance, Cloudian HyperStore lets you choose the deployment model that meets your business needs. Software can be deployed on either industry-standard servers or virtual machines.
Deployment Options:
Deploy as on-premises storage, distributed storage, or storage-as-a- service.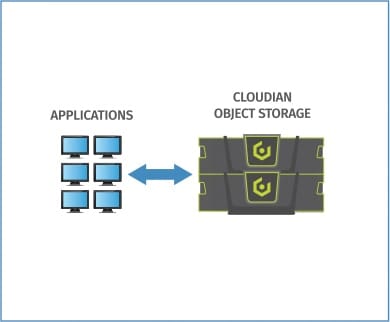 On-Premises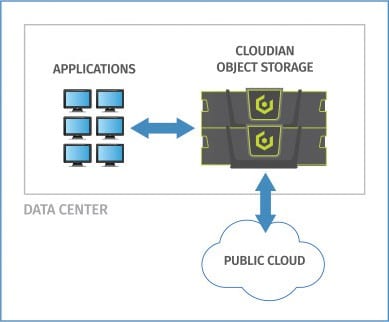 Hybrid Cloud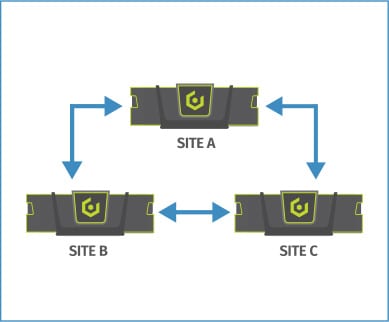 Multi-Site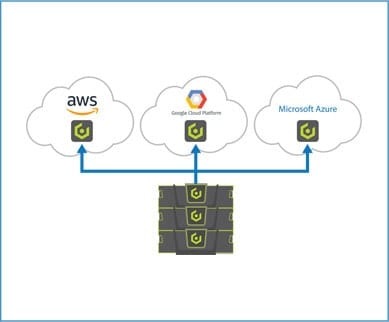 Multi-Cloud
Specifications:
HyperStore 4100 Specifications
Form Factor
2 nodes in a 4U rack mount chassis
Metadata Drives
4x U.2 7mm NVMe Flash (2x per node)
Metadata Drive Sizes
1.92TB and 3.84TB options
Data Drives
70x 3.5" SAS HDD (35x per node, 7200 RPM)
Data Drive Sizes
8TB, 10TB, 12TB, 14TB
Storage Capacity Raw
560TB, 700TB, 840TB, 980TB
Data Protection
Replication and erasure coding via storage policies
Redundancy
Hot swappable disk drives
4x hot swappable power supplies
No single point of failure
Non-disruptive online software upgrades
CPU
4x Intel Xeon Gold 5218R 2.1G 27.5M Cache, 20C/40T (2x per node)
Memory
256GB (128GB per node)
Network Interfaces*
up to 4x dual port 10/25GbE NIC (2x per node), or 2x dual port 10/25GbE NIC and 2x dual port 40/100GbE NIC (1x 10/25GbE and 1x 40/100GbE NIC per node)
Monitoring/Management
CLI, GUI, API, IPMI, JMX
Power Supply
1200W Platinum, 2+2 redundancy; 100-120/200-240Vac, 50/60Hz, 14/8A
Cooling
5x (4x8056 + 1x6056) dual rotor fan modules (9+1 redundancy)
Thermal Rating
8188.8 BTU/hr
Dimensions
17.6" x 6.9" x 35.91" / 447mm x 175.3mm x 912.2mm
Weight
109.02 lbs (49.45kg) without drives; 286.6 lbs (130kg max) fully populated
IO Ports/Connectivity
1x GbE RJ45 LAN Port (Dedicated IPMI 2.0 Management port)
2x USB 3.0 ports; 1x VGA port; 1x RS232 (serial header port)
Operating Environment
Operating temperature: 5°C to 35°C (41°F to 95°F)
Non-operating temperature: -40°C to 65°C (-40°F to 149°F)
Operating relative humidity: 20% to 85% RH (non-condensing)
Non-operating relative humidity: 40% to 90% RH (non-condensing)
*SFP transceivers and network cabling not included and must be supplied by the customer.
Views: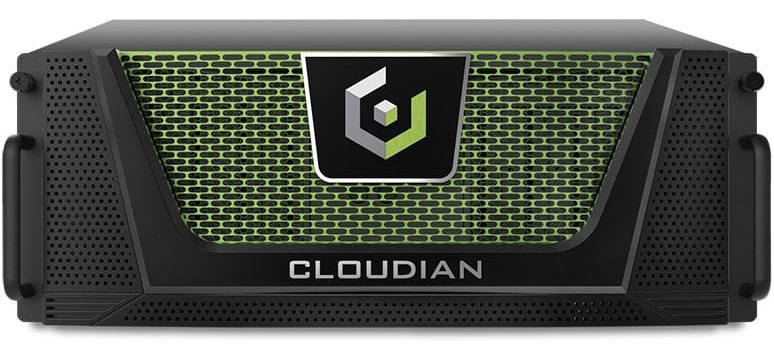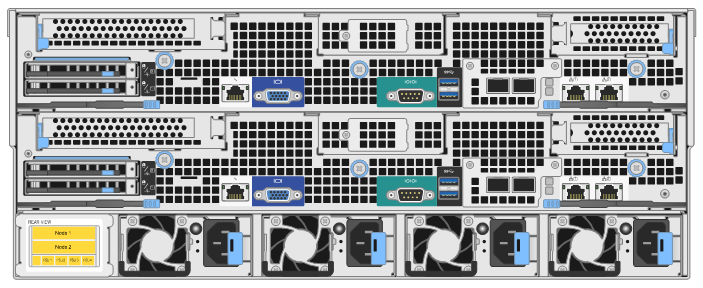 Pricing Notes:
Pricing and product availability subject to change without notice.
Cloudian Products
Cloudian HyperStore Appliance
Cloudian HyperStore 4100 Appliance