Cloudian HyperStore Xtreme 4516G

HyperScale S3-Compatible Storage for Private Clouds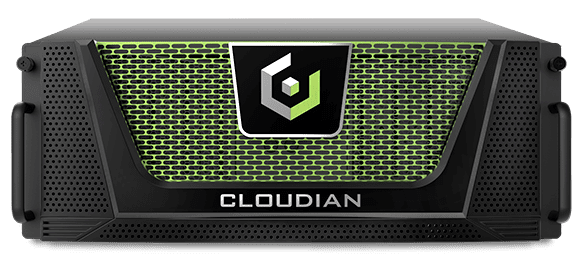 Cloudian HyperStore Xtreme 4516G Appliance
#HSX-4516G
Contact us for Pricing!


Ultra-dense 4U platform
1536TB capacity (raw)
2 nodes in 1 chassis
96x hot-swappable 3.5" disk drives (48 per node)
4x hot-swappable 2.5" SSDs
2x Intel Xeon Gold 5118 (2.3 GHz, 12C/24T, 16.5M cache)
512GB (256GB per node) Memory
Up to 4x 10/25GbE networking per node; 40/100Gb networking option available
Overview: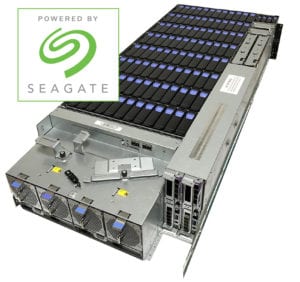 At 1.5PB in a 4U-high chassis, the HyperStore Xtreme provides 79% more storage density. It is pack up to 18PB in a data center rack. The dual controller design includes two independent cluster nodes in a single enclosure. Three appliances provide six independent nodes. It is fully redundant power and cooling, plus hot-swappable components. Performance features include four 1.92TB SSDs for metadata, four Intel Xeon Silver processors, and eight 10Gb Ethernet ports.
Accommodate your most capacity-intensive workloads with Cloudian HyperStore Xtreme. Built on a new ultra-dense Seagate server platform, the HyperStore Xtreme object storage system packs more than 1.5 petabytes of capacity in just 4U of rack height. Get the scalable, S3-compatible storage you need for use cases such as big data, media archives, healthcare records, and video surveillance. Intuitive management tools and built-in data protection make it easy to manage and grow.
HyperStore Xtreme Appliance
The Cloudian HyperStore Xtreme appliance, Powered by Seagate, delivers the industry's highest enterprise storage density to save you space and cost. Fully integrated with Cloudian HyperStore software, it is available with end-to-end support packages, professional services, and administrator certification programs.
Features/Benefits
1.5PB capacity in 4U of rack height
Up to 18PB per data center rack
Limitlessly scalable capacity
Non-disruptive capacity expansion
Fully native S3 API for guaranteed application compatibility
Efficient data protection with replication and erasure coding
Bucket-level granularity for all storage policies
Encryption for secure data storage
Comprehensive multi-tenant services
Quality of Service (QoS) controls
Integrated billing, management, and software
Multi-data center support via replication and erasure coding
Software
Fully native S3 API support
Non-disruptive, modular expansion
Scalability to an exabyte
Hybrid, multi-cloud ready
Policy-based tiering / replication to the cloud
Native compatibility with AWS, GCP, Azure
Data protection via erasure coding and/or replication
Bucket-level configuration settings
Geo-distribution with replication and/or distributed EC
WORM support
Multi-tenancy, QoS, billing support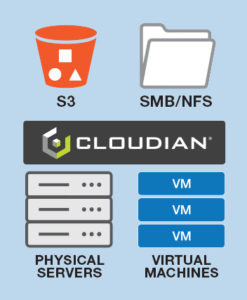 Modular Growth
Cloudian HyperStore consists of storage nodes that join to form a limitless cluster. As requirements grow, you simply add nodes. Traditional storage grows in complexity as your capacity expands and systems proliferate. Cloudian stays simple with a single storage fabric. Deploy nodes as either pre-configured appliances – with capacities from 48TB to 1.5PB per appliance – or as software-defined storage on the server of your choice, Cloudian nodes make it easy to grow.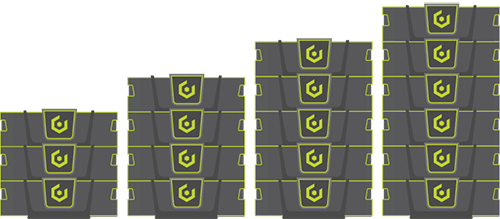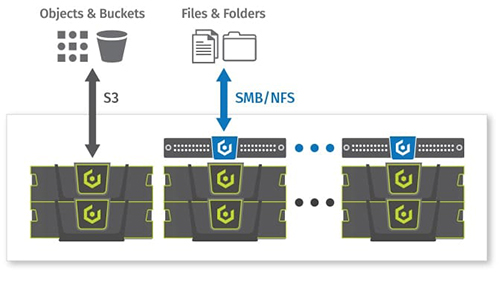 File and Object Together
Cloudian combines file and object storage in one limitlessly scalable environment. For SMB and NFS file services, employ the HyperFile NAS Controller. Available as either a pre-configured appliance or a VM-based application, HyperFile delivers scalable file services from HyperStore object storage. The result is a single, limitlessly-scalable common storage pool.
Features:
Cloudian HyperStore offers more capabilities that boost interoperability, data durability, and operational efficiency.

Proven S3 API
The industry's highest S3 API compliance ensures investment protection

File Support
SMB and NFS support with HyperFile NAS Controller software

Exabyte Scalability
Hyperscale data fabric for limitless growth

Modular Growth
Scale capacity and performance with additional nodes

GEO Distribution
Locate storage any place, manage from one place

Cloud Integration
Connect to public cloud for DR or added capacity
Benefits:
S3-Compatible and Hybrid/Multi-Cloud Ready
Cloudian's native S3 API implementation offers the industry's highest level of S3 interoperability, letting you capitalize on the rapidly growing ecosystem of S3-enabled applications. It's also compatible with public cloud platforms including AWS, Google, and Microsoft, HyperStore Xtreme includes data management tools that make it easy to integrate your on-prem and cloud storage environments.
Reduced Data Center Footprint
At 1536TB capacity in a 4U chassis, the HyperStore Xtreme appliance is the industry's most space-efficient enterprise storage system. The chassis incorporates two separate storage nodes per 4U enclosure, each with independent Intel processors and connectivity resources. You scale by simply adding devices, so you can grow from petabytes to an exabyte with no interruption.
Cost Savings Now, and Into the Future
At less than ½ cent per GB per month, HyperStore Xtreme delivers over 70% savings when compared with either traditional enterprise storage or public cloud storage. When it's time to expand, you'll save even more. Cloudian's evergreen architecture and Seagate's accelerated component/system integration process let you benefit from industry-leading technology, both now and into the future.
File and Object Storage Support
Proven in over seven years of deployments, HyperStore's native S3 API implementation eliminates gateways or access layers to give you guaranteed compatibility with your S3-enabled applications. For files, deploy Cloudian HyperFile, the optional SMB/NFS interface. Together with Cloudian HyperStore, HyperFile provides a cost-effective solution for your capacity-intensive, less-frequently used files.
Uncompromising Data Durability
Get up to 14 nines data durability and configurable data protection. Only HyperStore offers granular management that lets you customize data protection for various data types within a cluster. Select from multiple levels of data replication and erasure coding.
Integrated Multi-Site Capability
Extend your storage with the industry's most flexible geodistribution architecture. Replicate data across regions to provide local access and resilience in the event of a data center failure. Configurable consistency levels let you select either synchronous or asynchronous replication. Or employ distributed erasure coding to stripe data across sites as a highly-efficient disaster recovery option.
Scalable Performance
Process multiple requests in parallel, across all nodes in HyperStore's shared-nothing cluster. This eliminates bottlenecks and allows performance to grow as you add nodes. For large file transfers, multi-part upload lets you transfer files seamlessly between sites or to the public cloud.
Multi-Tenancy
Establish multiple user spaces with HyperStore's multi-tenancy capabilities. Provide individual management domains and namespaces within a shared cluster. Cloudian offers QoS controls and billing features that let you manage bandwidth and chargebacks.
Intuitive Management
Manage Cloudian via the intuitive GUI or automate tasks using the RESTful API. Cluster management tasks are simple as well. Add or remove nodes and update system software without disruption.
Variable-size Metadata Tags
Record metadata along with user data to facilitate data management and data search. Elastic Search integration provides near real-time search capability. Variable metadata tag sizes give you flexibility not found in other object storage systems.
Security
HyperStore AES-256 Server-Side Encryption enables enterprises and service providers to easily encrypt data stored at rest. SSL encryption ensures data confidentiality for data in transit (HTTPS). And with S3-compatible object-level ACLs, system administrators can better manage access to buckets and objects.
Deployment Options:
Deploy as on-premises storage, distributed storage, or storage-as-a- service.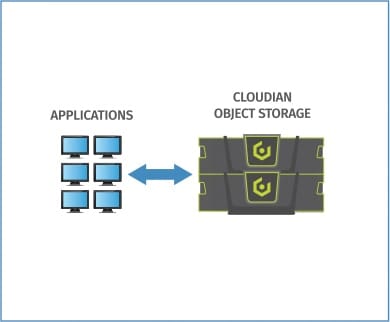 On-Premises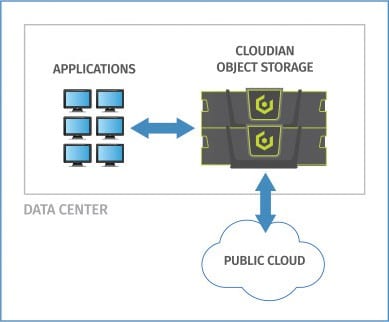 Hybrid Cloud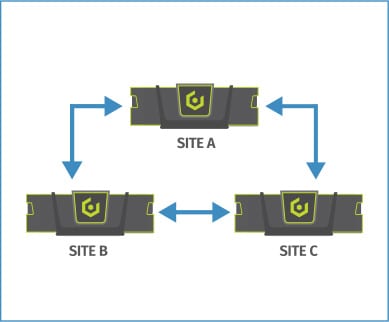 Multi-Site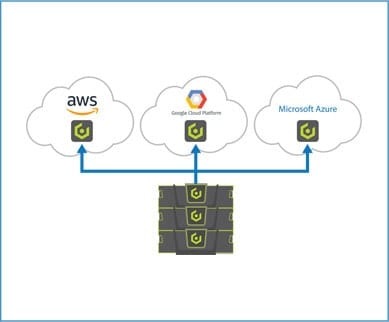 Multi-Cloud
Specifications:
Model/Configuration
HSX-4516S
HSX-4516G
CPU
2x Intel Xeon Silver 4110 (2.1 GHz, 8C/16T, 11M cache)
2x Intel Xeon Gold 5118 (2.3 GHz, 12C/24T, 16.5M cache)
Memory
256GB (128GB per node)
512GB (256GB per node)
Thermal Rating
7848 BTU/hr (max)
8565 BTU/hr (max)
Weight
330 lbs / 149.7Kg
330.24 lbs. / 149.8Kg
Metadata Drive Sizes
1.92TB
3.84TB
Metadata Drives
4x 2.5" SAS SSD (2 per node)
Data Drives
96x 3.5" SAS HDD (48 per node, 7200 RPM)
Drive Sizes
16TB
Storage Capacity Raw
1536TB
Form Factor
2 nodes in a 4U rack mount chassis
Data Protection
Replication and erasure coding via storage policies
Redundancy
Hot-swappable disk drives
4x hot swappable power supplies
No single point of failure
Non-disruptive online software upgrades
Network Interfaces*
8x 10GbE (SFP+, 4 per node); 25GbE (SFP28) and 100Gb (QSFP28) options
Monitoring/Management
CLI, GUI, API, IPMI, JMX
Power Supply
2x 3200W PSU, 200-240V AC
Cooling
(4) 8056 + (1) 6056 dual-rotor fans
Dimensions (W x H x D)
17.4" x 6.95" x 44.8" / 441mm x 176.4mm x 1139mm
IO Ports
Rear per node: (1) USB 3.0 port; (1) HDMI port; (1) GbE RJ45 management
Operating Environment
Operating temperature: 5°C to 35°C (41°F to 95°F)
Non-operating temperature: -40°C to 70°C (-40°F to 158°F)
Operating relative humidity: 10% to 80%RH
Non-operating relative humidity: 5% to 90%RH
Views: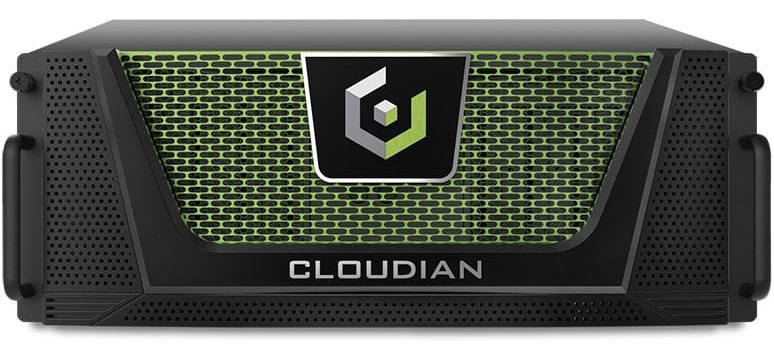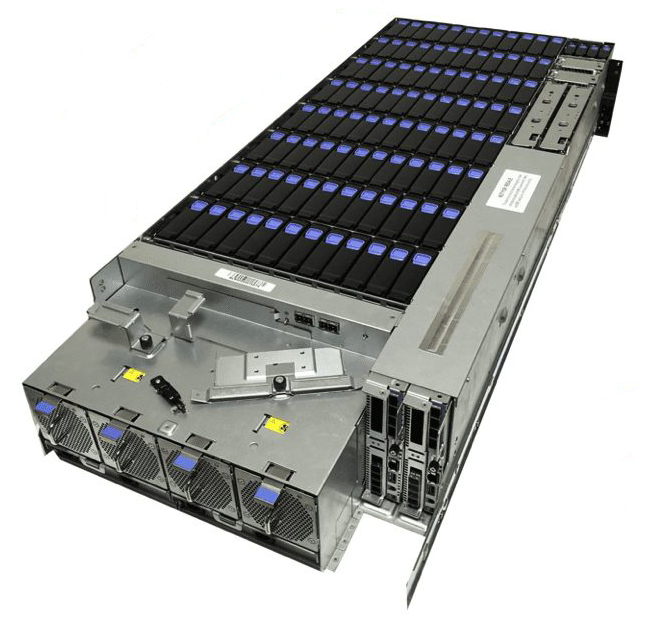 Pricing Notes:
Pricing and product availability subject to change without notice.
Cloudian Products
Cloudian HyperStore Appliance
Cloudian HyperStore Xtreme 4516G Appliance